GRAND PRIX RATING: 7/10
DRIVER/TEAM OF THE DAY
Romain Grosjean (Haas, P6)
What an astonishing drive. After a shoddy qualifying for the new boys, Haas took advantage of the red flag caused by their driver Esteban Gutierrez's horrendous collision with McLaren's Fernando Alonso. Race strategist Ruth Buscombe pulled off a brilliant decision to place Grosjean on new medium tyres, vaulting their French superstar above those many who took on used mediums or later made a second pit stop to unsuccessfully take advantage of soft compounds in their second stints.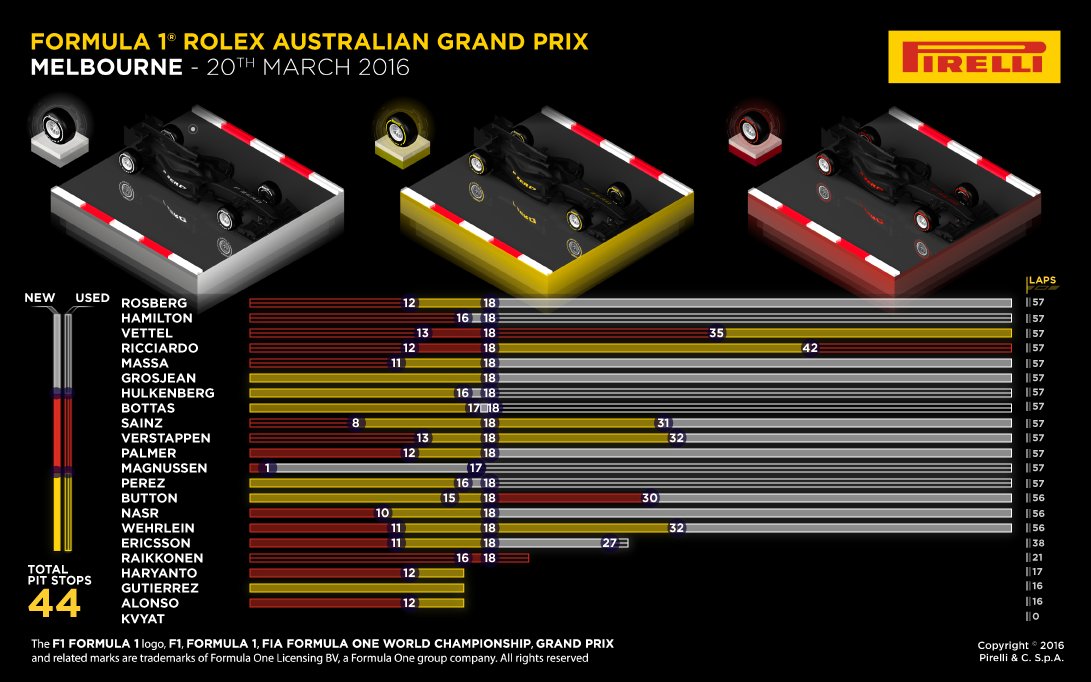 WINNERS
Nico Rosberg (Mercedes, P1)
Rosberg's start was poor, but nowhere near as poor as Hamilton's. His performance proved Mercedes' great longevity on the medium compounds.
Daniel Ricciardo (Red Bull, P4)
In spite of a grimly underpowered power unit, Ricciardo successfully pulled off a four tyre compound strategy (used super-softs, new super-softs, new softs & used super-softs). The Red Bull RB12 chassis appears to be the gentlest on its tyres in race-trim, allowing the local boy to set the race's  fastest lap of 1:28.997.
Kevin Magnussen (Renault, P12)
The Dane drove a steady, determined race after his first lap incident which damaged his car significantly. To finish just two seconds behind Palmer, having driven more than half of the race on used mediums bodes well for K-Mag.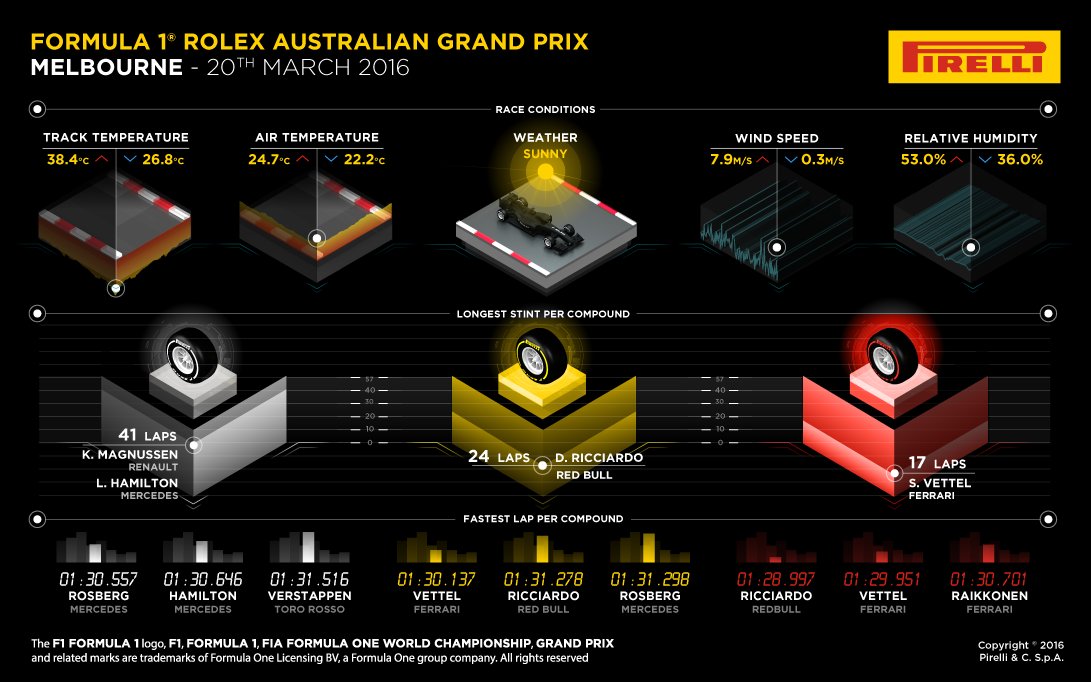 REJECTS OF THE DAY
FIA, F1 Strategy Group & Bernie Ecclestone
The most laughable qualifying session took place on Saturday and proved many within the FIA are not fit to govern the premier class of motorsport. The F1 Strategy Group itself should refund the fans who were subjected to such a pathetic farce. As for Bernie, he is finished.
LOSERS OF THE DAY
Lewis Hamilton (Mercedes, P2)
Once again the Blessed One courted bad publicity during the mid-week, breaching the dress code of a Auckland casino and then taking a selfie on his motorcycle, thus attracting police attention. In the race itself, Hamilton dropped to P6 at the start and struggled to overtake the Toro Rossos in the following stints. In the end, it was damage limitation and the Briton was fortunate Sebastian Vettel took a trip to the grass in the closing laps whilst pursuing him.
Ferrari (Vettel, P3/Raikkonen, DNF)
The boys from Maranello threw away a very likely victory with a poor tyre strategy for Vettel. There seems to be a lack of confidence in the prowess of the SF16-H to run consistent laps on the medium compounds. A turbo failure and a "small" fire for Raikkonen and a slow 5.6 second pit stop for Vettel's 2nd pit stop was inexcusable. Operational errors need to wiped out immediately.
Williams (Massa, P5/Bottas, P8)
An incredibly disappointing performance for the Banbury squad, who appear to be divesting funds to their 2017 car. For Massa to finish nearly a minute down on Rosberg, despite having used the optimal new medium compound at the restart, was more than underwhelming to say the least.
Toro Rosso (Sainz, P9/Verstappen, P10)
A questionable decision to not change tyre compounds during the red flag proved costly, as both Sainz and Verstappen fell out with their engineers on the radio.
Sergio Perez (Force India, P13)
Anonymous and comprehensively beaten by Hulkenberg.
McLaren-Honda (Button, P14 & Alonso, DNF and alive)
A slightly promising performance in qualifying turned horribly sour in the race itself. The MP4-31 does not look drivable on used compounds at all.
Pirelli
Please give the teams at least 18 sets of tyres for the weekend. 13 sets are far too insufficient.