Claims of sabotage engulfed social media during last weekend's Russian Grand Prix, with many fabricating preposterous claims that Mercedes were favouring Nico Rosberg's pursuit of a first WDC. It is undeniable that Lewis Hamilton has suffered an ungodly amount of bad luck this season thus far. However, most of this has resulted from mechanical issues and collisions with unruly competitors (i.e. Valtteri Bottas at Bahrain & Felipe Nasr at China).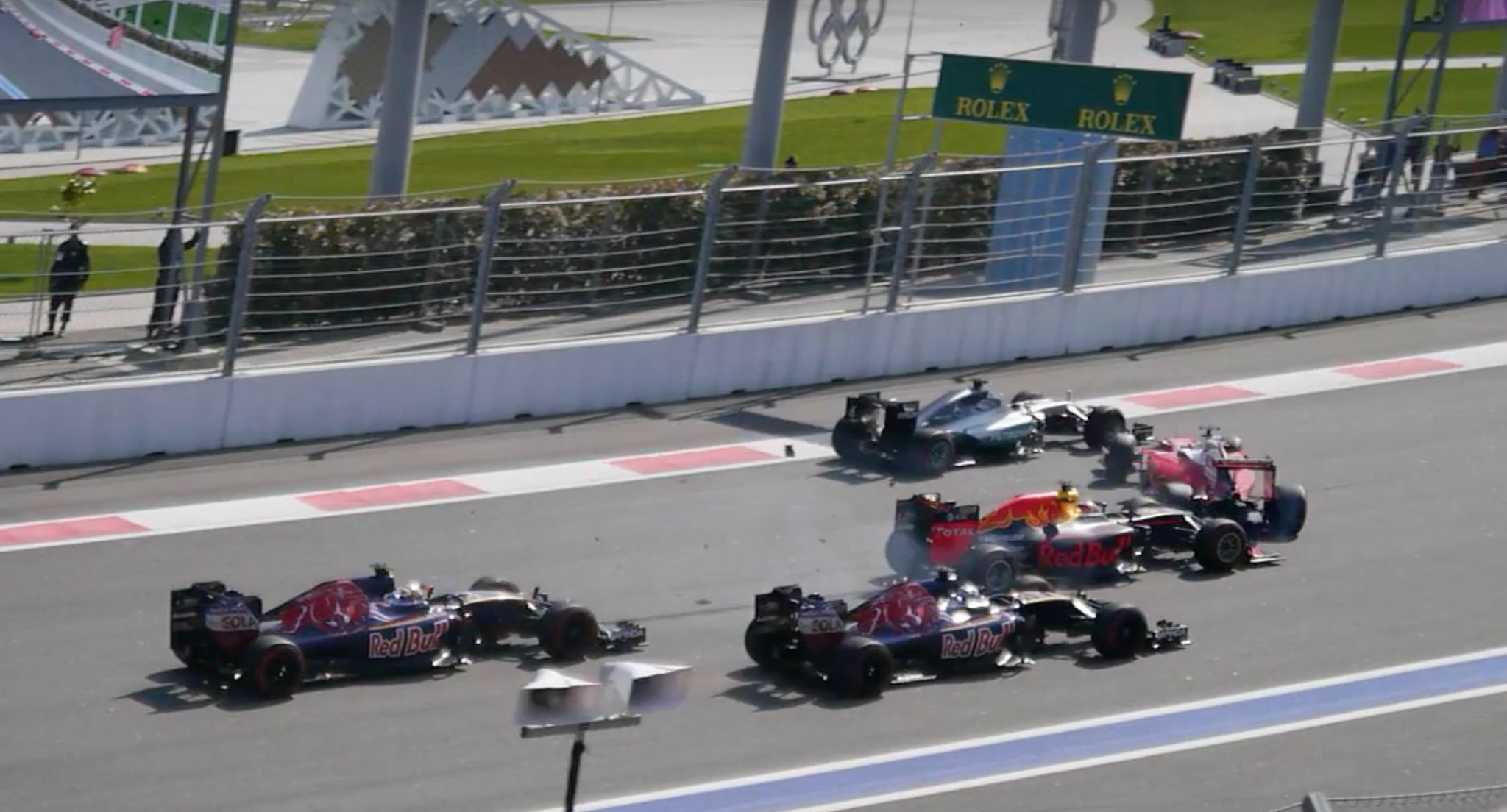 The picture above shows Daniil Kvyat's impetuous clash with Sebastian Vettel on the entry to Turn 3 during the first lap of yesterday's Russian Grand Prix. The silver car jinking to the left is none other than Hamilton's Mercedes, who narrowly avoids contact with Vettel's spinning Ferrari. This is arguably the first instance of lady luck the Briton has received this season, as had his Mercedes had been hit and stricken by the Kyvat-Vettel collision, the deluded members of #LH44 fanbase would have blown their nuts off in fury.
On the 22nd anniversary of Ratzenberger & Senna's deaths, to make such horrendous comments is just unbelievable and inhumane in the extreme. In an era of jilted and mentally disturbed F1 fanatics, this is the last thing anyone should condone. What's even more disturbing is the fact that 46 Facebook users "liked" this comment post (!). Why on earth would a multinational corporation pay a global superstar £21 million per annum and provide him with a car with faulty mechanical parts? Not to mention the £400 million+ race & development budget spent to provide Hamilton and Rosberg the best car for the past two seasons. Last year Mercedes published their financial accounts for the 2014 season, recording losses of £76.9 million!
Although Ferrari is struggling with torrid reliability and driver collisions, Mercedes is well aware of the potential of the Prancing Horse to catch up dramatically if the Italians are able to fully rectify their current mechanical issues, as well as extract more all-round speed out of the SF16-H, a serious title fight on the WDC & WCC awaits them. In addition, if Kimi Raikkonen can continue his improved performances, a genuine four-way awaits this season and seventeen races still remain in what will be the longest season of Grand Prix racing.  Unfortunately, a sport like Formula 1 will always attract deranged parasites amongst its fanbase and their attitudes need to be reviewed and dealt with accordingly.
In the words of Lewis Hamilton:
We win and lose together.