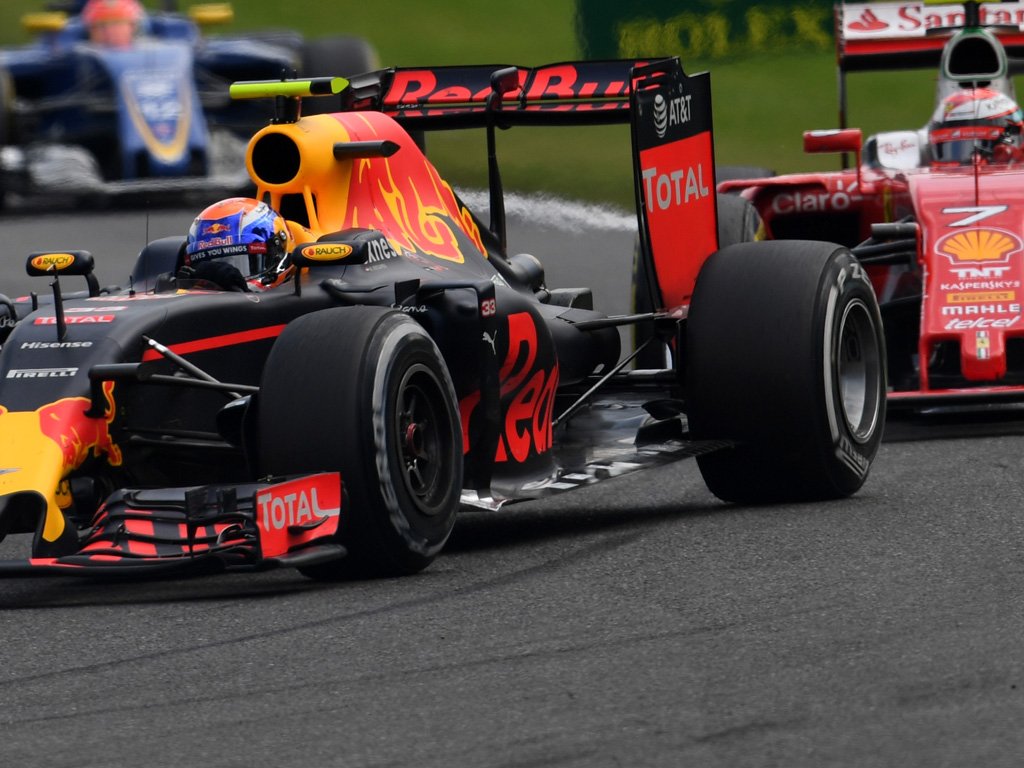 After a months' break, I actually lost interest in F1 completely. Therefore, I only realised there was a race proceeding at 1355BST today! By this time, I was perplexed to see Raikkonen, Vettel & Verstappen significantly beneath their grid positions within the race order. I was shocked further to see only sixteen laps having completed. The horrific colossal crash of Kevin Magnussen was cataclysmic and replay videos on social media stupefied numerous users, as shards of carbon fibre disintegrated and exposed the survival cell of his Renault.
However, replays of what happened on the first lap angered me so much, I proceed to retweet posts attacking an overconfident and severely conceited driver. Of course, I will give my view of the collision within my notorious Reject of the Day section, where I will provide justified condemnation of the culprit (clue: it's not a Ferrari driver).
Nico Rosberg drove a composed race to lead from lights to flag, cutting Lewis Hamilton's points lead to nine. The Briton himself drove eloquently, however, his progress had been assisted by the multitude of collisions within the mid-pack and Mercedes' astute pit wall vaulted his car through the order with adroit pit stop timing. Daniel Ricciardo continued his renaissance, firmly reestablishing his status as team leader at Red Bull. The Honey Badger remains the closer challenger to Merc drivers within the WDC, as he sits 81 points behind Rosberg with 8 races and a maximum of 200 points remaining. It would take a brave soul to bet in favour of a Daniel Ricciardo world championship, which would be almost certainly be the greatest upset in F1 history. The Australian has still yet to win a race this season, coming closest in Monaco, where his calamitous pit stop debacle costed him victory as Red Bull's engineers infamously forgot to instruct the mechanics to bring out the nominated tyre compounds, due to a poorly-timed impromptu call by the team to tell Ricciardo to enter the pits so soon. Keke Rosberg won his first and only race of his 1982 World Championship victory at round 14, the so-called "Swiss Grand Prix" held in Dijon, France. It is up for contention amongst historians, if Ricciardo won his first victory of 2016 at Singapore Grand Prix (Round 15) or even later, if that particular race victory would be considered as "first victory of a world championship victory won at the latest stage of the season" as 1982 only had sixteen races (so therefore Keke won his first race with only two races (12.5%) remaining), whilst 2016 has 21 scheduled races.
Force India had a marvellous race, as 4th and 5th clocked up 22 points, vaulting them above Williams into 4th place in the Constructors' standings, an all-time high for the SIlverstone-based squad. It is a historic achievement and an emotional fillip for its owner Vijay Mallya, who has had a tumultuous year, having been deported to his home country of India to face charges of money laudering. The result further consolidates the reputation of Nico Hulkenberg, still a podium virgin despite being so highly regarded, whilst Sergio Perez ponders a move to his team's aforementioned rivals or Renault. Williams, however, will be mildly satisfied with 8th and 10th for Bottas and Massa, having reversed a steady decline into the midfield pack during previous races, but attention will turn to 2017 so a fightback for 4th will be mostly half-hearted.
Driver of the Day 
Fernando Alonso (6th, McLaren-Honda)
The wizened Spaniard proved himself again to be arguably F1's most complete driver, expertly slicing his way into points-paying positions, having starting last due to power unit component changes. One might suggest that Ron Dennis and his cronies would be wise to extend Alonso's contract into 2018, as any major improvements next season would spur their star driver to stick out for a potential third and final WDC to crown a glittering career.
REJECT (Cunt) of the Day
Max Verstappen (11th, Red Bull and somehow not disqualified)
*Deep breath*
Let's look at the photographic evidence of the Lap 1 incident at La Source.
It's been made very clear by the FIA that breaching track limits will see offending drivers punished accordingly. Some defendants may argue that as Max's front left tyre was on the outside of the white line and had marginal contact will the grey asphalt, he was entitled to use almost the whole kerb to overtake Raikkonen on the inside. Others would argue a more experienced driver would brake earlier and wait to attempt a manoeurve on the run up to Les Combes, an argument I firmly agree with. The main proponent of the defendant's argument were that Vettel had squeezed Raikkonen back onto the inside too much, but his mirrors clearly could not show him Verstappen approaching and taking an almost illegal tight inside line at La Source.
Was Max Verstappen at fault for Lap 1 La Source collision? GUILTY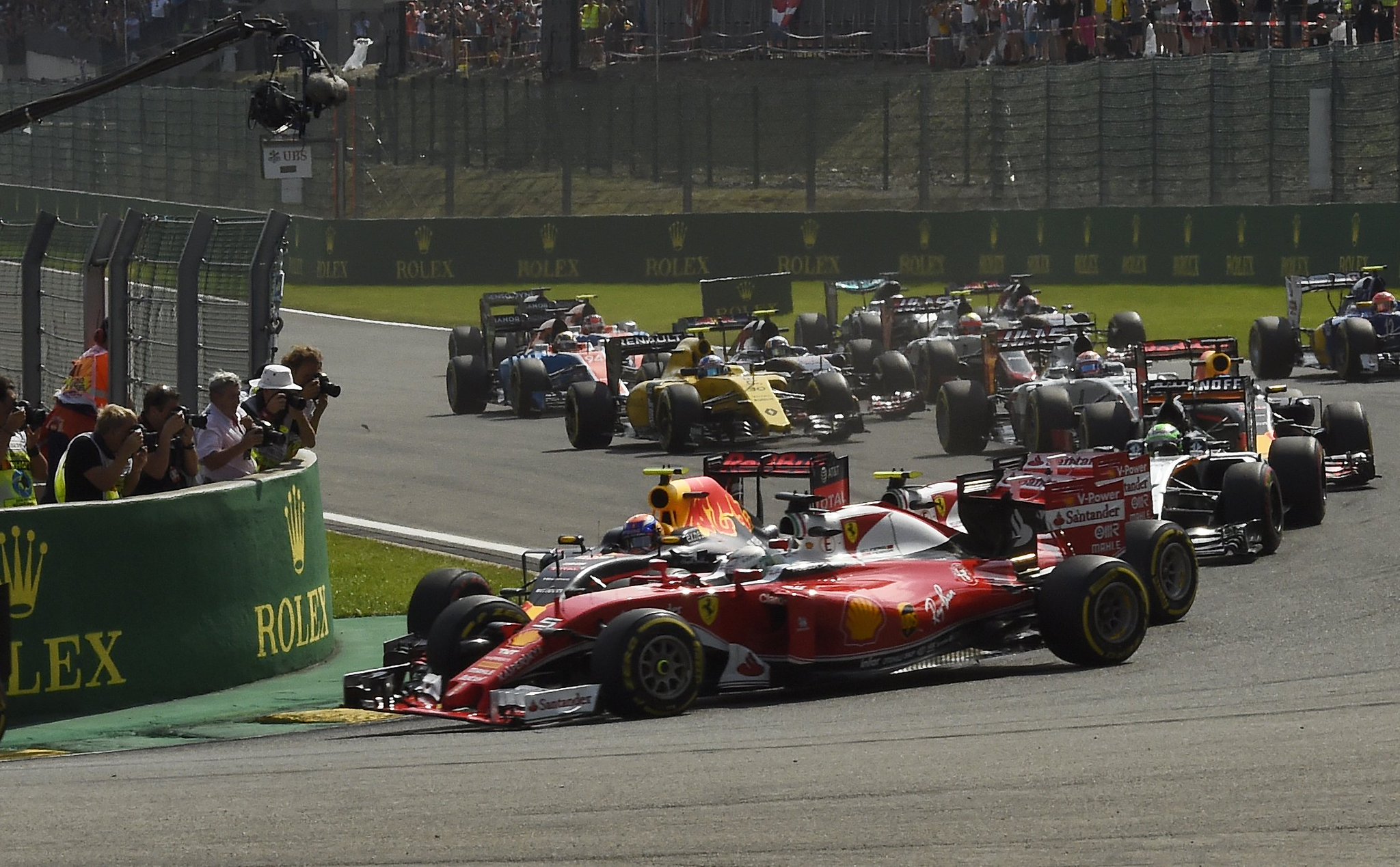 This photo displays Max Verstappen's full view of where both Ferrari were positioned on the entry to La Source. A fully responsible, mature driver would eschew such a heedless attempt to regain position after such a poor start from the front row.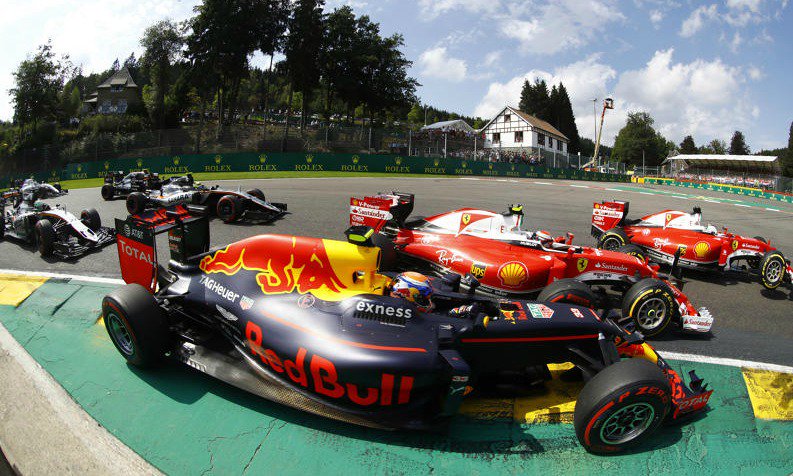 The aftermath of the incident shows the right sided tyres of Verstappen's car were positioned outside of the yellow and green rumble strips of the kerb he was using. This surely is a blatant breach of FIA's track limit regulations and arises suspicions of prospective favourism towards their fledgling poster boy.
Max Verstappen's worst crimes, however, were committed on Laps 12 and 13 in the run up to Les Combes. On both laps, he jinked to the right frantically when he saw Raikkonen approaching the inside line and the gif of his block on Lap 13 illustrates clearly how the Dutchboy has no regard for his competitors' livelihood.
Astonishingly, Max wasn't finished with Raikkonen. He proceeded to clearly push the Finn off onto the run-off area at Les Combes, even driving his own four tyres off-track to block his rival off! How Kimi restrained himself from badgering Max with vitriol post-race, I'll never know, but it proves the extreme moral control he has is something I admire passionately.
We mustn't forget Verstappen doing exactly the same stunt on Sergio Perez later in the race…
…. seriously Charlie Whiting, Jean Todt and any other FIA delegates, you have a clear agenda to promote this starlet as F1's future by indulging his whims!
Let's hope I'm in a substantially improved mood by the conclusion of next week's Italian Grand Prix.