DRIVER OF THE DAY
Sebastian Vettel (P5, Ferrari)
In a trouble-filled weekend with pace and reliability issues, the German's drive from P22 to a solid P5 is testament to his combativeness. It would be easy for the four time champ to lose his marbles at the Scuderia's state of affairs, but Vettel continues to preach belief and positively in his media statements.
WINNERS
Nico Rosberg (P1, Mercedes)
A very worthy candidate of Driver of the Day himself. This weekend, Rosberg decimated teammate Lewis Hamilton in a manner rarely seen throughout their partnership of the past four years. In the closing stages, Rosberg may have slipped up at the sight of a rampant Daniel Ricciardo looming in his mirrors in previous seasons, but the German held firm. Once seen as a certain nearly-man of F1, Rosberg has transformed his critics' opinions and maybe 2016 could finally be his crowning glory.
Daniel Ricciardo (P2, Red Bull)
The Honey Badger continues his upturn in form since mid-July, this time comprehensively defeating tyro teammate Max Verstappen emphatically. His economic usage of supersofts underline his ascendancy, consolidating his credentials for a potential championship challenge in 2017. In the closing laps, Ricciardo sliced the deficit to Rosberg rapidly, but arguably if the race had lasted a lap longer, the Australian could have been toasting his first victory of the season with a "shoey". Ricciardo was also awarded the fastest lap of the race, his third of the season.
Lewis Hamilton (P3, Mercedes)
The Briton had a strange weekend. Completely overshadowed by Rosberg amidst rumours of sabotage on social media, Hamilton's race worsened when Kimi Raikkonen pounced and overtook adroitly on lap 32 to leave red faces within the Mercedes garage. Ferrari's perplexing decision to switch Kimi's softs to used ultrasofts ultimately saved Hamilton's bacon, but momentum has now swung firmly in Rosberg's favour.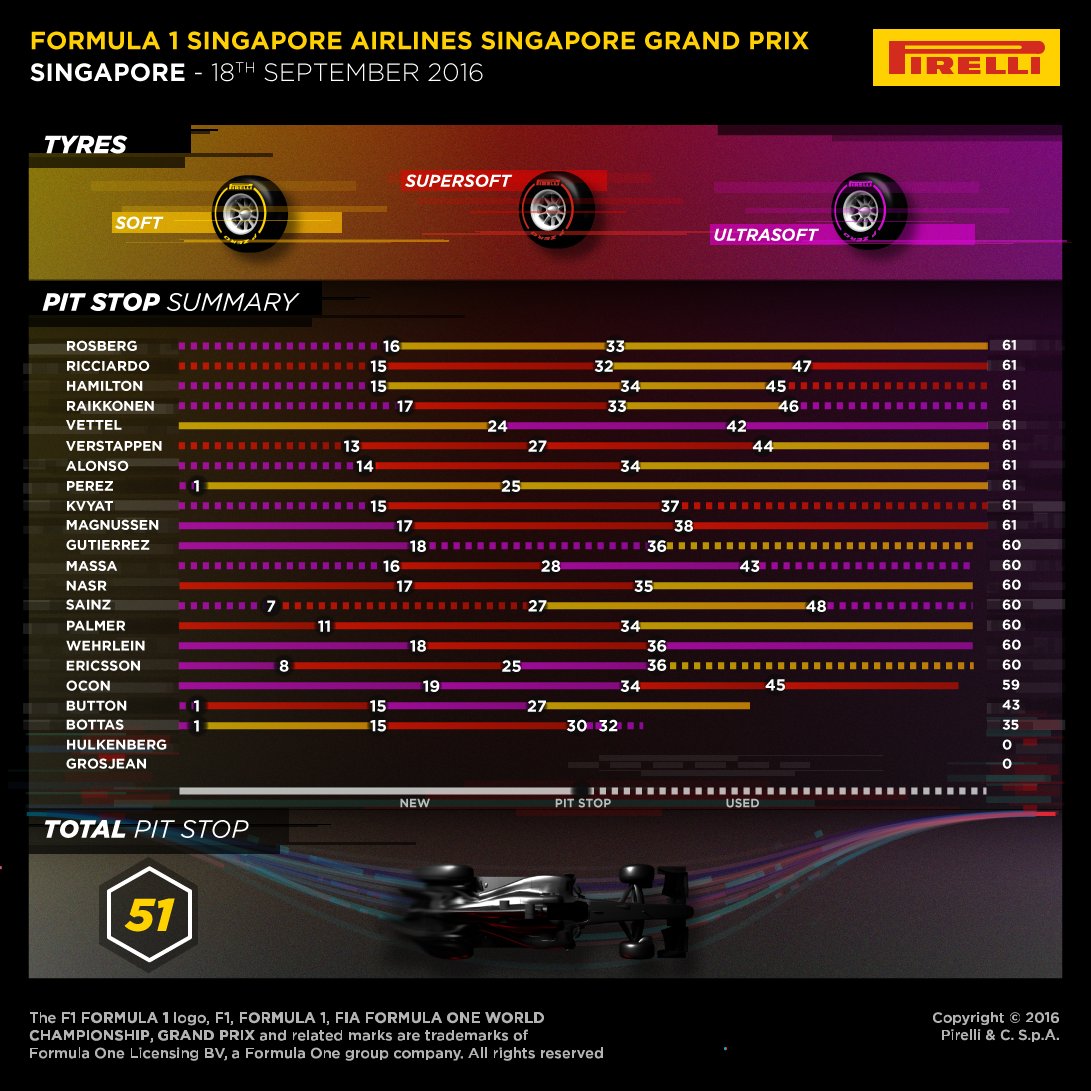 Kimi Raikkonen (P4, Ferrari)
Another case of what if. The Iceman has a patience of gold, as surely an average driver would lost his frustration at the Maranello squad's mounting foibles. A superb drive that deserved so much more, especially when considering how Kimi outpaced Vettel in all three practice sessions.
Fernando Alonso (P7, McLaren-Honda)
The polarising Spaniard continues his 2016 revival, as Alonso thoroughly exploited the precise characteristics of his McLaren chassis to another solid points haul, making his soft compounds in his final stint last 27 laps. Why Ferrari didn't follow this tactical decision with Raikkonen is an utter mystery.
Sergio Perez (P8, Force India)
After his petulant display in Saturday's qualifying, where he repeatedly blocked cars and failed to slow for yellow flags, Perez exploited the first lap safety car to switch to softs, making his second set of softs on his final stint last a mammoth 42 laps. The Mexican's market value is booming again.
Daniil Kvyat (P9, Toro Rosso)
In a difficult 2016, where the Russian's motivation has come under question, this was the feisty performance he desperately needed to prove his doubters wrong. His overtake and subsequent defending against his swap partner Max Verstappen had the hallmarks of an intense rivalry, but also defiance from Kvyat against his finicky employers. If Dany is to remain in F1 for 2017, it is almost certain to be with a non-Red Bull affiliated outfit, so it was vital for the Russian to sell himself with an exhilarating display.
Kevin Magnussen (P10, Renault)
2016 has been a continuous series of underwhelming results from the Enstone-based squad, so it was vital Magnussen picked up the team's first points since Russia. A scintillating start followed by his consistent stints on supersofts is a welcome change in the Dane's undistinguished recent performances.
REJECT OF THE DAY
Max Verstappen (P6, Red Bull)
The Dutchman sited clutch issues as the source of his pathetic start, but it was inexcusable how he blocked off Carlos Sainz, causing a fast approaching Nico Hulkenberg to smash into the Spaniard's Toro Rosso and end the German's race. The remainder of Verstappen's Grand Prix saw him humiliated in a fascinating tussle with Kvyat, whose staunch defence served a taste of the bratty youngster's own medicine. Finishing the race 70 seconds behind surging teammate Ricciardo and struggling heavily with tyre degradation, Max's late charge did little to disguise his poor day.