9. Sergio Perez (7th, 101 points- Force India VJM09-Mercedes) 7.5
A rather mixed season for the mercurial Mexican. One moment, he looked ordinary, but at venues such as Monte Carlo and Baku, he seized his opportunity. However, even at Baku, with two minutes of FP3 to go, he pursued a faster lap where there was no need and landed his car in the barriers. The extensive damage forced his mechanics to fix his car within only two hours before the qualifying session, which leaves a question mark over his mental forecasting and restraint as a driver. Perez is a more complete driver than he was during his miserable season at McLaren, but plotting his potential is tricky for predictors.
He outperformed Hulkenberg in the races, but he lost the qualifying battle 12-9.
10. Valtteri Bottas (8th, 85 points- Williams FW38-Mercedes) 7.0
Before Nico Rosberg's retirement announcement, I thought I would be writing a standard end-of-season for every driver involved this season. However, with such a huge bombshell dropped, one of his potential replacements has come under scrutiny. This affable Finn drove as well as he could, but fiscal restraints limited his results. He picked up his and Williams' only podium at Canada, where he maximised the FW38's straightline speed, but the chassis philosophy showed its age. Winning the qualifying battle 17-4 over retiring Felipe Massa will do his chances of a Mercedes seat no harm, though.
11. Romain Grosjean (13th- 29 points- Haas VF-16-Ferrari) 7.0
The erratic Frenchman had his typical dips-and-troughs over the course of the season; when the car was fine, he exploited it to score great results, but when it had problems, he was nowhere. Come mid-season, he was being beaten for pace by his much-maligned team-mate Esteban Gutierrez, whom he beat 12-9 in the qualifying battle. In many ways, this season proved Grosjean is destined to be a nearly-man of his generation; too good to be running in midfield, but not quite complete enough to be a front-runner. His team-leadership skills were heavily criticised, too, as he allowed his short temper to be his worst enemy, as seen at Lotus. Whatever floats your boat, Romain.
12. Felipe Nasr (17th- 2 points- Sauber C35- Ferrari) 6.5
The sturdy Brazilian had  a rather quiet second season of his fledgling F1 career, however when car issues were not an issue, he smashed Marcus Ericsson to a pulp. His qualifying performance in Q1 at Baku saw him outpace Ericsson by almost 0.7 seconds, whilst Q1 at Hungary saw him ranked 7th in wet conditions. His adept wet-weather driving rewarded with two points in Brazil, but his sponsor Banco do Brasil had already called it quits, so his future may rely upon Bottas vacating a seat at Williams. He lost 13-8 in the qualifying battle against Ericsson, although a prevalent handling issue in the early part of the season played a factor in this.
13. Felipe Massa (11th- 53 points- Williams FW38-Mercedes) 6.5
The popular Brazilian had a consistent, if unspectacular final season of F1. Massa will be remembered for his brilliant 2008 season, where won six races and possibly two more in Hungary and Singapore, if it was not for engine failure and a trapped fuel rig. World champion for 20 seconds until Lewis Hamilton crept passed a dry tyre-shod Timo Glock, an emotive Felipe stood on the podium with courage and grace. A good sportsman will be missed.
14. Jenson Button (15th, 21 points- McLaren MP4-31-Honda) 6.0
Like Massa, Button will be missed sorely, but he arguably had an even more disappointing farewell year. Only scoring five points than he did in last year's shambles of a car, the Frome veteran intermittently showed his old spark in Austria and Germany, but his peak years are past. Once derided as a playboy, Jenson matured into a heavily-feared hard-charger, who used his brain and guile to compensate for his lack of raw pace. From 2009-12, his wins displayed a verve for fluid thinking under pressure and ability to judge adverse conditions better than anyone else. Sadly, his team-mate Fernando Alonso demolished him 14-5 in the qualifying battle, so it is perhaps best to allow Stoffel Vandoorne his belated full-time debut.
15. Nico Hulkenberg (9th, 72 points, Force India VJM09-Mercedes) 6.0
Year after year, the lanky German is rated as one of the best midfielders in the sport, but this season has been underwhelming. Outraced and outscored by his diminutive team-mate Perez, Hulkenberg will need to up his game to deliver the goods for Renault. It's becoming a cliche to say Hulkenberg drove well despite narrowly missing out on a podium. His dreadful start from P3 on the grid at Austria sums up the mishaps which have become alarmingly prevalent in the 29-year-old's driving. For a driver so highly-regarded, winning the qualifying battle 12-9 over a driver not renowned for raw pace is lamentable.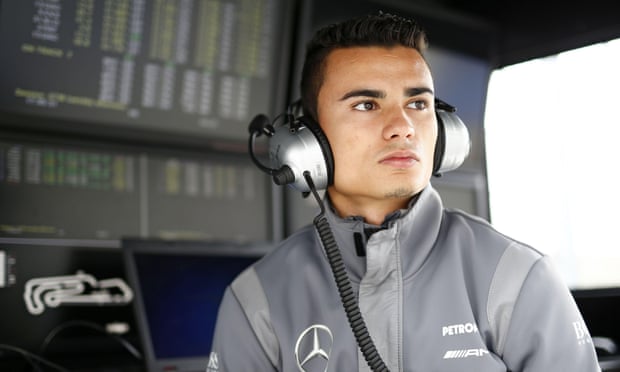 16. Pascal Wehrlein (19th, 1 point- Manor MRT05-Mercedes) 5.5
As you're well aware, if this year's world champion hadn't shocked everyone with his intention to depart the sport immediately, last year's DTM champion would probably be seeking a second season at Manor or a move to Sauber. With extensive testing experience with Mercedes and Force India, the golden child of Silver Arrows has a satisfactory debut season. His sole point at Spielberg underlined his talent, but he won the qualifying battle by just 7-5 over his paying team-mate Rio Haryanto. He raised his game to beat 7-2 in the qualifying war against replacement Esteban Ocon, but his race performances became static and concerning. Thanks to Rosberg's announcement, Wehrlein may land the hot seat at Mercedes, but that is hypothetical and many feel his confidence could be destroyed by being paired with a ruthless Hamilton. Due to the dire financial circumstances Sauber and Manor find themselves in, and how Mercedes have admitted dismay over his perceived self-centred and stubborn personality, the starlet may find himself dedicated to solely testing next season.